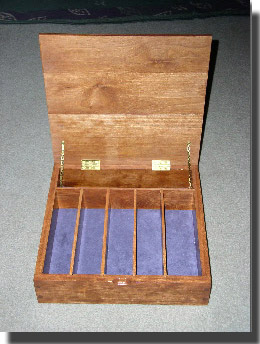 Custom Cherry Silverware Box
A woodworking project might be defined as:
anything created out of wood or in combination with another material
might be totally handmade
something which fulfills a common everyday need
something to make you or someone you know lives easier
or just a unique piece of art that no one else has
There are no limits to what you can dream up
For me it is much more satisfying to use something made out of wood, whether I made it or someone else did. Wood has a way of sharing a warm comfortable feeling, both to the creator and to the owner of it.
This webpage is to present a portfolio of different projects that I have been part of creating. You will be able to go to other pages which will provide a sampling of different projects I have done with photos and description of them.
It is meant to be a tool to help you in deciding what you would want or to give you ideas of different ways to go. These samplings are meant only as examples. We are open to work on any project you can dream up.
Wood type selection choices
You can specify the type of wood;
We will need to know if you prefer the finish:
natural
the color of the wood enhanced by a stain
We will also need to know what you want the finish to be;
hand rubbed oil
satin polyurethane
semi-gloss polyurethane
gloss polyurethane
The choices are in your hands and on ours.
I can create that custom one-of-a-kind for that special someone or provide you a choice from my stock. If you would like several of an item, let me know. I would love to work with you.
---
Project Information