The following projects were created out of treated lumber because of the outdoor environment they were in with lots of snow and rain. When these were built CCA treated lumber was the way to go. Now days I would use one of the more health favorable products on the market
Such as: recycled plastic lumber, naturally durable species such as redwood, cedar...etc
Non-wood products such as plastic lumber are highly resistent to decay, however, most are not designed for structual use, therefore the use of plastic lumber is limited. So make sure the project you are making will stand up to what you need if you use these.
If you are able to still obtain treated lumber and must use it, make sure to protect yourself with gloves, face mask, cover your skin and wash well with soap after using. Sanding is not recommended because of the fine particals created.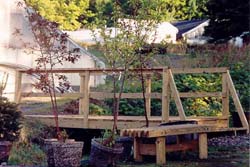 Bridge and Bench
This was one of two bridges I built to get across a creek in the nursey. The bench was another spot for customers to be able to sit and relax.


Pair of Benchs
These where created for a nursey business. We were creating an environment for customer to browse and relax.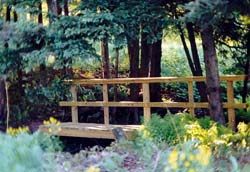 Bridge
This is the second bridge needed to get to owners residence on the property.

Shade House
This was used to display all plants that were for sale. They wanted a way to display their products openly and be able to protect them from the sun. It also needed to be easy to water the plants.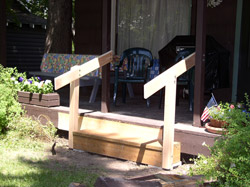 Custom Step and Handrails
These are a new set of steps and handrails just competed for a customer. I had to remove the old steps and repair the face plate on the deck before I could begin. The old steps extended past the roofline and were in direct line of all the rain and snowfall, causing them to rot. There were no handrails with the old steps. The redesign moved the step in closer to the deck inside the roofline. The new step is set on a solid concrete block base and is 55 1/2 inches wide and 15 inches deep and was constructed out of treated lumber per the customerís request. There are new handrails on each side of the step which are attached to the deck. These were created out of Douglas Fir. The step and handrails will be painted by the owner to match the color of the deck.