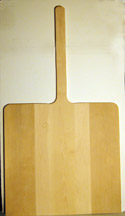 Custom Pizza Peels are one of the primary kichen tools for any good cook/chef if you create your own homemade pizzas.
Contact me if you are a pizzeria looking for a custom shape or size and I will work with you to create that perfect peel.
Be prepared to wait as each peel is created individually and take some time for the whole process of creation.
Rest assured the wait will be worth it.
We are one of the few shops who will create peels of pretty much any size or shape. Our largest to date has been a 36 inch paddle with a four foot handle.
Let me create one for you.
---
I am in the process of updating and loading the many different shapes and sizes of pizza peels I have created on this webpage.
While I am doing that, and for more choices and examples of pizza peels I have done please go to my blog: http://splinterswoodworks.blogspot.com/
and using the search box on the right side of page, do a search for custom pizza peels. Thank you.
---
These custom pizza peels are typically made of Birch, because they have a tighter grain and provide a hard smoother surface. However, you can find them in a variety of other different materials if you prefer. Most people prefer a wood pizza peel because it gives a more natural and appealing appearance.
Typically our Basic Custom Pizza Peel have a 18 inch by 18 inch paddle with a handle length of around 7 inches. We can custom make to your dimensions.
Custom Pizza Peels cost begin at $125.00 plus cost of shipping for our basic peel.
The cost of shipping is in addition to the price of your peel and because it is considered an oversized item shipping cost varies on the size of your peel.
Please contact us for an estimate.
After sanding smooth and preparing the wood we used a food grade mineral oil for the finish protective coat and recommended the following care:

We highly recommend oiling your pizza peel frequently. Over time oiling will preserve and protect the wood from splitting and cracking. Wash board with a mild detergent, not allowing it to soak in the water. Dry your pizza peel, and apply an even amount of a food safe mineral oil with a soft cloth. Remove any excess oil. You should not use any kind of vegetable or olive oil as the protective oil as they tend to turn rancid. Your pizza peel is not dishwasher compatible.
---
Thanks for taking the time to visit our site.
We hope you enjoy your visit to Splinters Woodworks Please place a bookmark in your favorites and return again soon.
Please contact us if you have any questions or comments about your custom pizza peels or the web site.