---
---
Customer Comments to Splinters Woodworks
12/5/2009 Hi Dave ..I just wanted you to know that the cribbage board came and I am so pleased with it. It is just want I wanted for Jack. I will now have to wait til the 13th to give it to him. Now I have to go out and shovel a bit of "white stuff"...Ugh. Will write you as soon as Jack sees it. Barb- Arlington Ma
12/4/2009 Hi Dave. Just a quick note to let you know the cribbage board showed up this morning and it is beautiful. Thank You. Doug - Lethbridge, Alberta Canada
11/21/2009 Thanks Dave, The plaques are just what I wanted. Have a great holiday season. Bill - Kalispell, MT
11/20/2009 They got the board yesterday. They loved it. Thank you so much for making the board. peace,Meghan - Deerfield Beach, FL
6/22/2009 Hi Dave, I just got the cribbage board today. I can't believe how beautiful it turned out! Thank you so much, you did an excellent job! You have gained one very loyal customer and any and all my referrals will come your way. Thanks again for a job well done! Sincerely, Jamie - Holden Ma
6/09/2009 Thanks, Dave, SO, SO, SO much for doing the clock for us. It turned out much better than we even envisioned. I think Doug was really happy receiving it, too. Thank you, too, for being so generous with your time. Thanks, again, for everything!!! Gail - West Glacier, Mt
6/03/2009 Hi Dave, Got the pizza peel and it is beautiful! It is just the right size and will be perfect for our pizza oven. Thank you so much. My good friend Peg was right on when she discovered you. She could not have picked a better house warming gift. Perfect! You do great work. Sydney - Kalispell, Montana
2/28/2009 The cribbage board is wonderful! The printing did turn out nice. Thank you so much. Don't be surprised if I ask you for another one - sooner than I did this one. Thanks again. Deb - Cutbank, Montana
6/03/2009 Hi Dave, Got the pizza peel and it is beautiful! It is just the right size and will be perfect for our pizza oven. Thank you so much. My good friend Peg was right on when she discovered you. She could not have picked a better house warming gift. Perfect! You do great work. Sydney - Kalispell, Montana
2/12/2009 The cutting board look great. Thank you very much.... Brian.... San Bernardino, CA
2/2/9 hi dave ... received cribbage board today,, we already have it broken in,,was exactly what i was looking for,,,thx. it is a nice looking piece of walnut and the birch inlays sets it off....... John...Mesa, Az.
1/22/9 The cutting board fit perfectly. Not too big for the counter, but big enough that I can cut, push it off to the side and still have plenty of room to cut some more! It is even MORE beautiful in person. Thank you, thank you, thank you!!!!........Dayna.....Columbia Falls, Mt...
12/20/08 "The Cribbage board arrived today. It looks wonderful! It's exactly what I had in mind. Thank you so much for making this Christmas so special. I know I love the cribbage board, and I'm sure my father will too! Thank you again! Happy Holidays! " Deanna.... Portage, Wisconsin


Custom Large Cribbage board
Febraury 23, 2008
I was looking for a large scale cribbage board with large pegs for my husband. He loves to play cribbage, but due to Parkinsons, is having a hard time handling the pegs on our small boards.
Upon receiving our board my husband loved the large pegs and the extra large board.
It made it so much easier for him to play.
Thanks again.
---
Custom Hickory cutting board

February 24, 2008

My experience with Splinter's has been outstanding !

The entire process has been all about getting me what I want and best of all, at a price that fits my expectations.

Working with Splinter's Wood Works has been great because I have actually felt a part of the finished product because of the input I was allowed, which makes it all that more valuable to me.

If you love wood and all it has to offer, Give Splinter's a shot !

Thanks , Jess Bender
---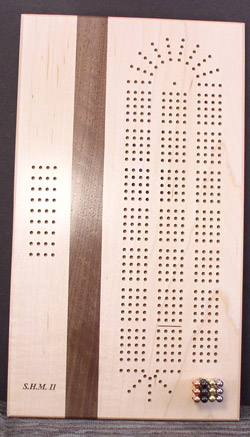 Custom Maple/Walnut Cribbage Board
December 17, 2007
Hi Dave, I got the board today--had to pick up from the post office. It's beautiful, I love it. It looks fabulous -- nice job! Thanks so much -- I truly appreciate your quickness, helpfulness and customer service.
Robin - Middletown, CT
---
December 17, 2007
I picked it up, opened it and it looks great.
It is wrapped and under the tree. I hope there are no more excuses she loses the game because she can't see the pegging.
Thanks again for the prompt service.
Merle - Fargo, ND
---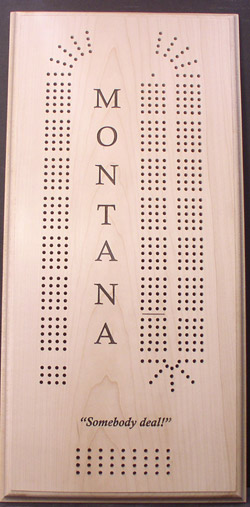 Custom Maple Cribbage Board

December 13, 2007

Hi Dave, I just received the board and am really pleased with how it turned out! It looks GREAT!!

The pictures you sent didn't do it justice, the letters are even more precise than what I thought they would be and I really like the way you darkened them.

I'm also very impressed with the wood you chose and the beveling.

You did a fantastic job and I couldn't be happier with the results.

Thanks again for your high-quality work (and re-work!), attention to detail, and for getting the board to me ahead of schedule. I really appreciate the time you put into this project and how easy you've been to work with.

THANK YOU!!

Happy Holidays!

Cami - Woodinville, WA
---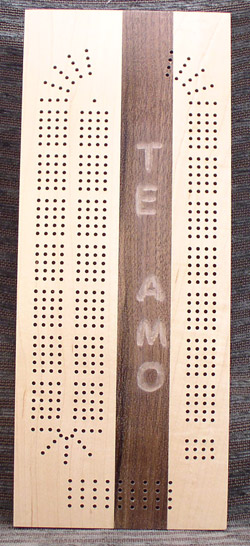 Custom Maple/Walnut Cribbage Board
August 21, 2007
Just wanted to say "thanks" again! The cribbage board is great and will be used for so many memories!
Thank you,
Kelly - St Paul, MN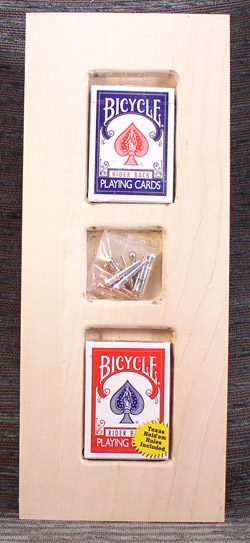 Custom Maple/Walnut Cribbage Board inside box
---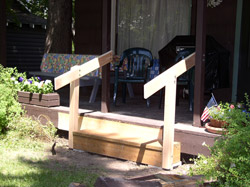 Custom step and hand rails
July 23, 2007
Thank you SO much! The porch steps turned out just great!
Gail - West Glacier, MT.
---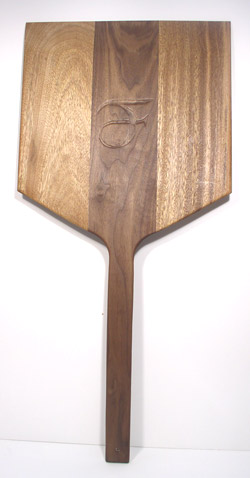 Custom Pizza Peel
June 25, 2007
"...wanted to send a quick email to say thank you for everything. The peel looks wonderful and my mom loved it! She is very excited about it and loved the F. I found out about your website through a google search looking for custom woodworking. Thanks again for everything. Its been great working with you. Have a nice day. "
Claudia - Allentown, PA
---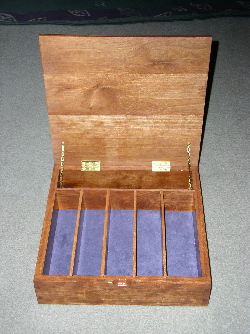 Custom Cherry Silveware Box

June 25, 2005

"...to jot a note of thanks for the beautiful silver box! It is a work of art, reflecting exacting care and craftmenship. Given the short amount of time we gave you and rather sketchy instructions it turned out pretty much as we had imagined!! We appreciate the nuance of the rounded-edge lid, the indented opening, the hinges and the high-gloss honey finish. Really, no hyperbole, it is magnificient!"

Dick - Seattle, WA.
---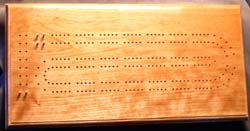 Cherry Cribbage Board

November 2005

" The two cribbage boards were beautiful and I love them."

Joe - Kalispell, MT.
---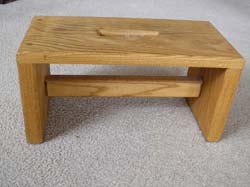 Oak Footstool
December 2003
"My Multi-purpose Stool is handy for reaching things in high places. It serves as a footstool when I read or watch TV. And best of all, friends say it's just the right height for sitting at the coffee table with a glass of wine."
Haidi - Seattle, WA.
---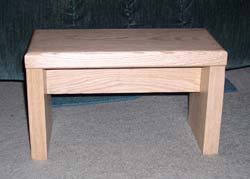 Oak Footstool

Christmas 2005

"I have always wanted a nice looking stool that would be easy to move around where ever I would need it. Santa gave me one this past Christmas and I love it! Not only do I use it for high hard to reach areas, but it works as a great extra seat in our living room. I love to move it in front of our wood stove when it's chilly. Here's to you Santa! Thank you, Thank you! "

Mara, West Glacier, MT.